Last Updated on April 7, 2023 by asifa
PDF( Portable Document Format), developed by Adobe Systems in the 1990s, is one file format that can make the file not be changed or edited. It can improve our efficiency when we handle daily work and business. However, sometimes we will encounter such situations that the PDF file contains too many pages but just several pages are useful for us. So, the most convenient way is to delete useless pages. EasePDF is one free online converter that can help us to delete our unwanted pages. It has so many functions and features that many other websites and applications don't have.
The characteristics of EasePDF are as follows.
Easy to Operate – If you are the first time to use EasePDF, you can choose the corresponding tools that you need to convert files easily according to the instructions.
Free of Price – Over 30 tools in EasePDF are free of price. You don't need to send any money compared to other tools or websites.
Various Tools – Tools in EasePDF are diverse. You can choose any of them based on your needs like Word to PDF, PDF to Excel, Delete PDF, Crop PDF, and so on. What is noticeable is that many other functions and tools are still being developed.
Multi-language Converting – You can convert files with languages like English, Chinese, Japanese, French, Deutsch, and others to other files directly.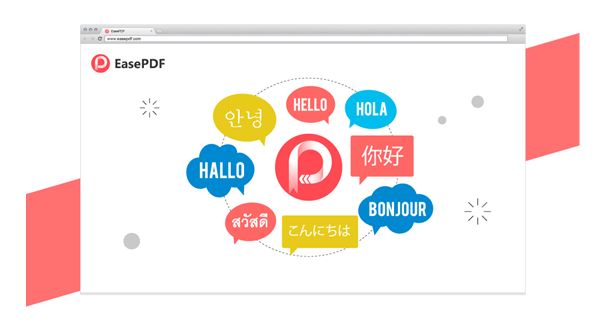 Cross Platforms – The free online PDF editor can work well on any operating systems like Windows, Mac, and so on. It can also be used on smartphones like iOS and Android OS.
Secure Online Conversion -It's free to use EasePDF as itis characterized by sound safety and high privacy.
If you want to delete some useless pages from the PDF, you can choose the tool Delete PDF in EasePDF directly. Now, let's take a look at how to delete PDF quickly.
Steps to Delete PDF with EasePDF
Step 1. Go to EasePDF's homepage, and click "Delete PDF"
You can go to EasePDF's homepage directly, and choose "Delete PDF" in "All PDF Tools" column.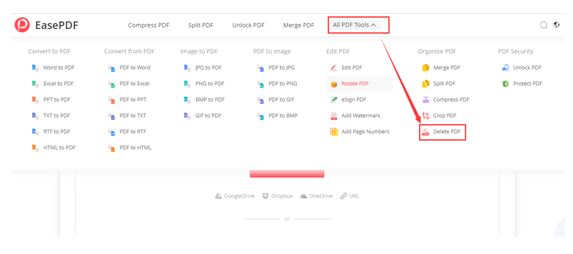 Step 2. Add Files
There are three ways that you can choose to add files.
Method 1 – Click "Add File(s)" to upload the single file or multiple files from your computer or other devices.
Method 2 – Choose the target PDF files on your computer and drag them to the "Delete PDF" interface directly.
Method 3 – Choose the files stored in Google Drive, Dropbox, or other URLs.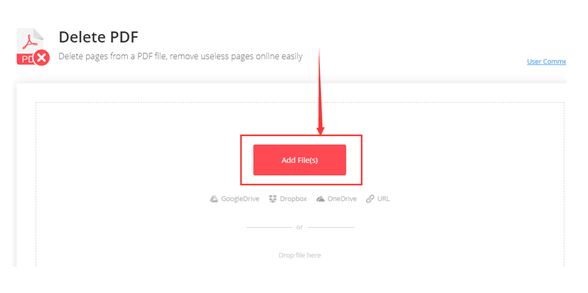 Step 3. Delete PDF
You can choose to delete unwanted PDF pages directly by clicking the unwanted pages. If you want to look at the details on every page, you can click the "enlarge" button in the top right corner.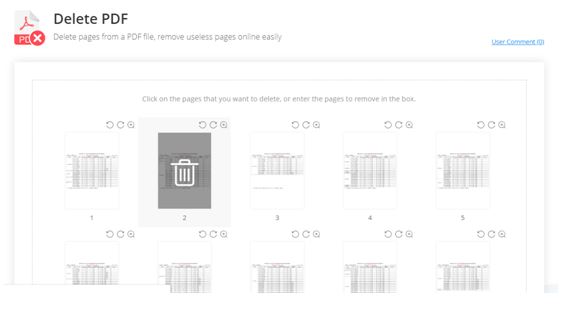 Step 4. Download PDF
After you delete the unwanted PDF pages, the next thing that you need to do is to download it. You can click the "download" button directly or share it with others by OneDrive, Dropbox, URL, and Email. The time of downloading PDF depends on the file size and the network.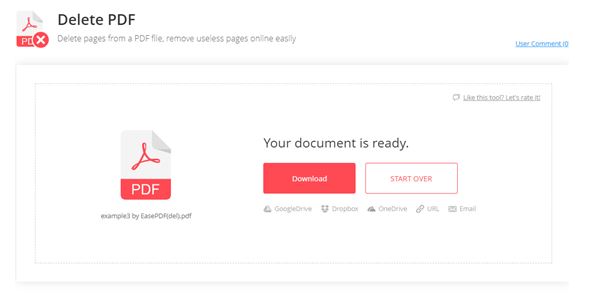 What I have mentioned above is a brief introduction about how to delete PDF with EasePDF efficiently, you can learn more from How to Delete PDF Pages. Other functions and tools are still being researched and developed. It's really an ideal choice to list it as your often-used office tool.
If you have some questions about converting PDF and want to know more, don't hesitate to contact us!
Apart from that, if you are interested to know about Quickbooks PDF Repair Tool then visit our Technology category.