Last Updated on December 30, 2021 by azamnie
It's often believed that customer feedback for their UX is not all that worthwhile as the vague responses provide no actual helpful information. But getting feedback from current customers is valuable, and can be insightful if done right.

According to Harvard Business Review studies, the cost of retaining happy customers is five to twenty-five times lesser than gaining new ones. Most importantly, the more happy customers, the more value-adding to your online business. 
You may be wondering why take feedback when you can acquire better results from modern analytic tools? While it is a great way to track and understand customers' preferences, it only gives you an answer to where and when the problem is occurring. In order to learn why you'd need to go beyond the numbers and get it straight from the horse's mouth. Here's a relevant example:
If you have a website that sells beautiful, handmade ceramics and you observe that it sells lower on smartphones than desktops, you may just pass it off as a bug, or something unimportant. Nevertheless, you ran tests, analyzed the heatmaps, and found that there's something off about it on certain smartphones. It's only via passive, qualitative feedback that you may learn about the error in the 'Coupon Code/Discount Voucher' that appears huge, unresponsive on few versions of smartphone UI causing people to never fully complete the order.
Now that you know all about how customer feedback can save the day, it's time you learn about doing it right.
Unlike the pop-up customer feedback surveys that can annoy a customer or even cause them to bounce, feedback can be presented in a way that acts as a solid, trust building for interaction for your customers. There's an entire feedback system linked to a strategy known as the ACAF Customer Feedback Loop.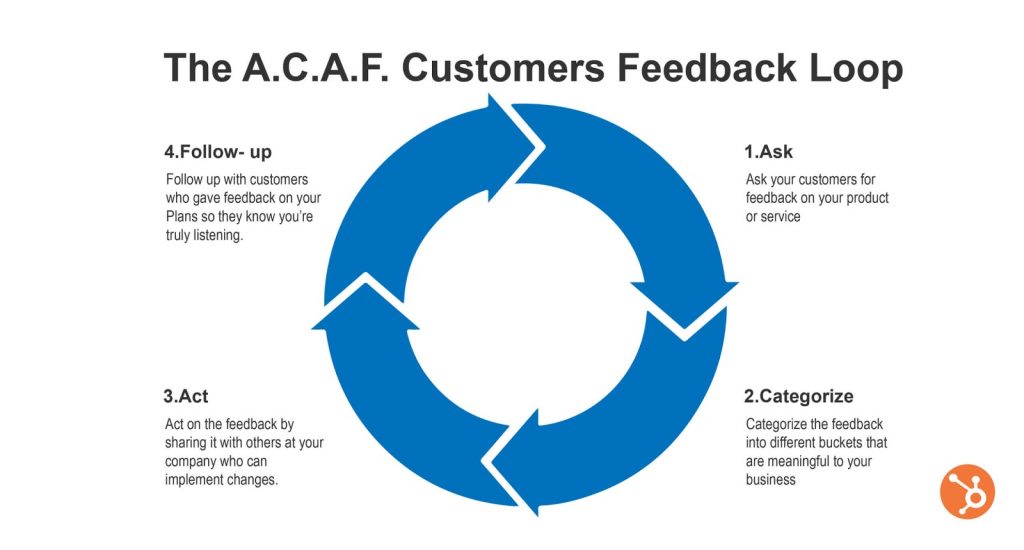 Credits: HubSpot
The path that you need to take for gathering customer feedback comes in four stages:
Ask
Categorize
Act
Follow Up
1. Ask Your Customers
For identifying trends in customer satisfaction, there can be multiple sets of questions curated for different purposes. Some examples are:
Q. Would you recommend us to a friend?
Such questions can provide an improved understanding to you based on your users to discover their overall product experience, and find reasons for recommending your brand to a friend.
Q. Describe our products.
This question can help you identify the users priorities when shopping and your perception of the products/services you provide to them.
Q. In what way do our products cater to your problems?
This question can help your customers to open up on the products that give straight competition to your products.
Q. Where do you face the utmost difficulty in our products?
Asking such questions may help you in understanding the shortcomings of your products and improve the quality of your product in general.
Q. What is the most unique feature of our product?
In order to accidentally find out the USP for your products from the customers' point of view, you would need to decide, revise, and choose to discontinue products.
Based on the above questions, there are three types of scores used to understand, analyze, and optimize the customers' experiences and more. They are:
Net Promoter Score (NPS): This score helps in understanding the increasing popularity or eagerness of an individual to recommend a product or service. It is generally calculated as:

Percentage of people who don't recommend – Percentage of people who are recommenders.

It has been observed that the people who encourage and recommend your products to others have a customer lifetime value that is 3x to 8x higher than those who don't recommend it.
Read More: UI/UX Designer as a Career Option
Customer Satisfaction Score (CSAT): This is the score that can help in understanding the overall satisfaction of your customers with special interaction with the company. These questions are based on live chats or knowledge-based articles as the solutions can help customers to have better insights and feel more comfortable in their purchase.
Social Media Monitoring (SMM): For gathering NPS and CSAT surveys, using tools like Google Alerts, Mention help to track and monitor the social mentions on networking websites and forums.
2. Organize your customer feedback
Without categorizing the different types of feedback, the information is almost unusable. Once segregated it can make it rich in insights, and add value to your product designing, as well as making the customer experience richer. Here's how you can go about it, by allocating the feedback into three main categories:
Product Feedback: It is about getting a massive spreadsheet filled with crucial information, in the following ways:
Major Product Bugs: These can include fixing crucial issues that may keep your users away from the maximum usage of your product.
Minor Product Bugs: Fixing such issues won't distract your users from the core value of your product.
Feature Requests: Prioritizing feedback on the basis of relevance and scope can also help your users in getting quick resolution of their issues or acknowledgment of their feedback.
Customer Feedback: One of the most productive ways of handling customer service feedback is by acting on it quickly. A few of the things you can do to improve customer feedback are:
Live Chatting
Follow-up emails
Education-based blogs
After you've done this, you need to get the most out of all this data by building a sustainable system for screening customer feedback.
Feedback for Marketing and Sales
It is the last category that you can push through with the help of customer feedback to optimize marketing and sales. You can strategize your product directly, on the basis of what your customers' feedback provided you and in a way that differentiates yourself from the rest of the industry. For starters, you can actually filter phrases into:
Phrases that tap into your customers' requirements (can be personalized or in general)
Phrases that summarize the customers' issues
Phrases that tell about/drop ideas about the customer's underlying hesitation about completing the purchase.
Phrases that tell more about their likes and preferences
For the customer success team, it can come with numerous possibilities where they can finally sit with the details of their customers to draw more on improving relevant actions in real-time. This brings us to the next process,
3. Acting on Customer Feedback
With feedback already divided based on its purpose and respective teams, it's where the three teams (marketing, customer support, and product team) come together within their groups to be on the lookout for feedback at a fixed interval. In this way, they can learn more about how a product is doing in general as well as come as an inspiration for new ideas and their inception; this time more equipped in customer experience than before.
Sometimes, the people providing you with the feedback may not be the main decision-makers in the first place and instead can't do much to improve your products' accountability online. It is therefore better to approach the end-user feedback as a source where you can establish direct lines of communication with the decision-maker and get their inputs/feedback on a timely basis for good results. It shouldn't be a problem if you have a closely-knit network of feedback channels.
4. Following Up With Customers on their Feedback
According to reports, 81% of customers don't bother to leave any feedback not because they think you can do any better, but because they feel you wouldn't care. The issue being businesses undermining followup emails that serve as an appreciative act for the business owner to the customer, thanking them for taking time to send feedback. They also look forward to faster turnaround times in case of an issue or repeating customer feedback. An open, public request board like Trello where customers can easily put their feedback, queries resolved as soon as possible.
For the most loyal customers, once they know that their feedback is considered for the development of the product it'll keep them hooked and following all of your product launches.
Wrapping Up
Customer Feedback can bring data-backed insights into your decision-making as well as learn deeper about your customers' online behavior. All that, combined with powerful, AI-based tools to take care of the manual work – gathering feedback, and dividing into respective teams can elevate your user experience altogether in a more meaningful way. 
However, for giving your business an endearing look and feel, clean and compelling UI/UX design and development is crucial, and for which I will recommend CodeClouds. They've top-ranking specialists who design great full-service funnels completely integrated with sticky.io and other CRMs that give you an edge over your competitors!.