Last Updated on November 18, 2023 by asifa
Video marketing is one of the significant aspects of marketing these days. There was a time when people used to depend on newspapers and television to promote their brand or product. But nowadays, there are multiple platforms over the internet where potential users promote their business through it. Social Networking sites and global platforms like Facebook, Instagram, YouTube, and many others are hubs of these thrift stores and businesses. The growing digital marketing needs better documentation of the brands or products with proper video editing and image contents to promote the business more. Video contents influence the viewers or customers to keep engaged. Even emails are opened 7% more when it contains the word 'video' in the subject. So if you are looking forward to making a presentation content to reach more people, make sure you create good video content. A presentation video content in 2020 can be the key to success.
If you are still not convinced, here are some insights on the influence of video content.
55% of people watch online videos every day, and 78% watch every week.
YouTube is the second most trafficked website after Google. By the year 2022, 82% of all consumer internet traffic would be through videos only.
The users spend 88% more time on the websites, which contains videos.
81% of businesses use video content to promote their business and products online.
97% of marketing experts claim that the videos help the business grow even faster and provide customer satisfaction, increase sales, and better services.
How to Create Video Content?
Creating a video presentation isn't rocket science. By following some necessary steps, anyone creates certain video marketing content to promote their business and reach even more. The steps to create content:
Write a Story Sketch – Making a story sketch or sketching an idea is the primary and fundamental part of creating any format content. An idea can be big or small, simple or complex but what matters the most is its relevance. Sketch a story for your video, needed props, and a basic diagram of how you will produce the video. Note down the links between the clips and work accordingly. You can make a list of the things that you want to add to your video like, callouts, highlights, or annotations. It takes nothing to write a story sketch, but just a pen and paper. It's just a basic plan for the video, so don't work hard on this but make sure you get your idea straight.
Create Your Video's Branding Elements – Since there is a huge digital market over the internet with many potential competitors, you need to create your unique branding elements to stand out among others. A brand logo plays a vital role as it helps to distinguish your particular business. Use quirky tag lines to keep an impact on the viewers or users. You can use Wondershare DemoCreator to fulfill this purpose of adding the brand logo to your video. It allows you to edit your videos and add media, annotations, and transitions,free ai video generator.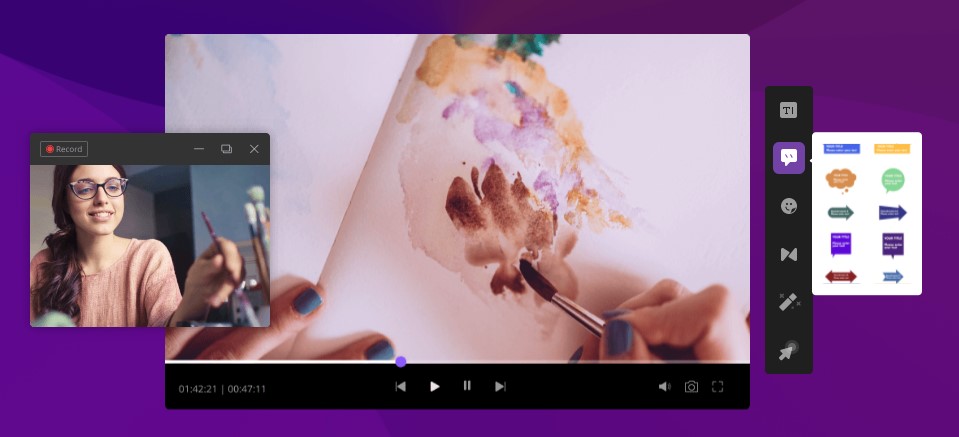 Determine Your Equipment Needs – Now that you are trying to record a video for content, you need some equipment to keep the process smooth. The first thing that comes to record a video is the camera. The next thing comes with an external microphone for a better and noise proof sound. A PC or computer will then work with audio and video components and edit it through software to create unique video content. Wondershare DemoCreator is the tool that solves all these problems single-handedly. You can screen record power point presentation with DemoCreator video editor via your computer or laptop's webcam. The advanced audio Feature allows you to record audio from the computer and Microphone both. As it is a video recording and editing tool itself, you can edit the recorded videos further. Thus you can create tutorials, product reviews, and even gameplays and app interface.
Edit Your Video – Wondershare DemoCreator comes with various advanced features that make your video even better to watch. Know the features, and it's used to create excellent video content.
You can add a media file from your media library by dragging and dropping it to the timeline or right-click on it to 'Add to timeline at play head.' It can be used to add a brand logo and a watermark.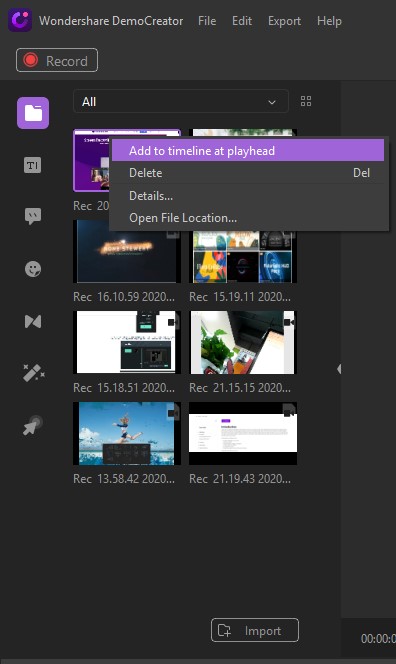 You can mute the audio or edit it otherwise by detaching the audio file from the video. It will be automatically placed in the upper track. Right-click on the clip and get these audio edit options.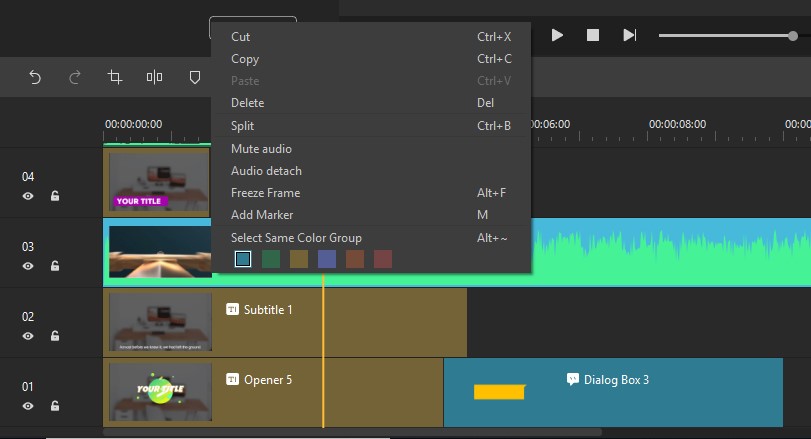 Click the Audio icon from the top right and check the Enable checkbox to filter and denoise.
You can resize by adjusting the scale percentage. Rotate the video by clicking and adjust the rotation with the timeline. You need to click on 'Crop' and adjust the border to get your required cropped size and apply it.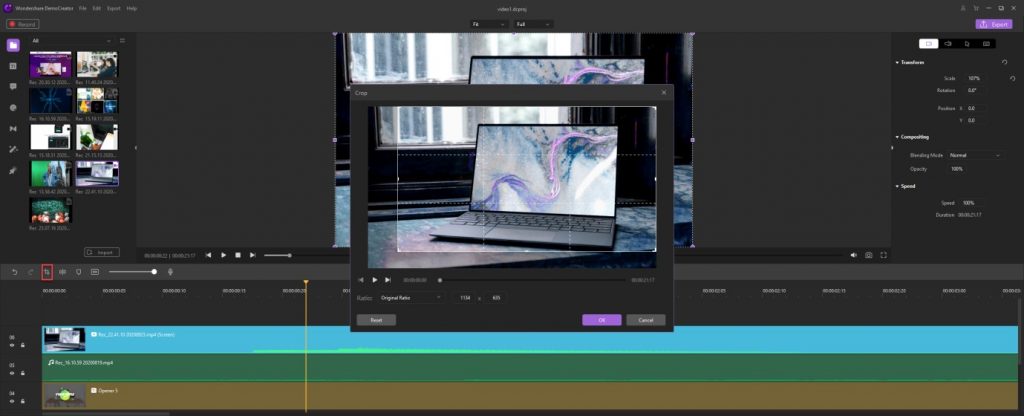 Trim your videos by dragging the line on the bar below the video.
Right-click on the desired video. You'll find an option 'split' from the panel. Select it and place it on the player. This will allow you to split and edit two footage.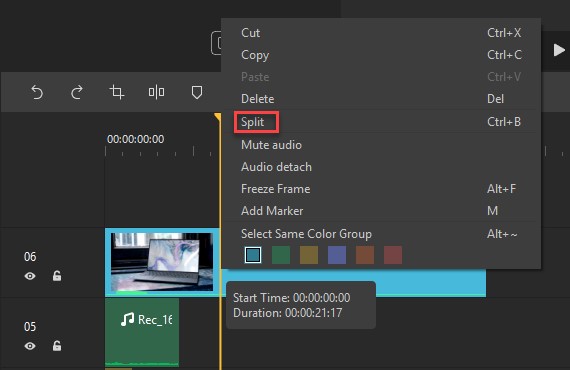 Usually, the mouse pointer or the cursor plays a vital role when you work on a screen recorded video. So make sure you use the cursor effects to add your videos more attractive.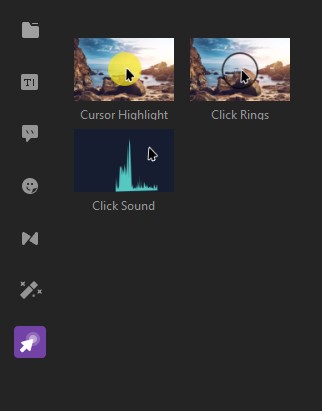 You can add annotations as in writings, callouts, highlight, or symbols to give your video an interactive flavor, so the user finds it pleasurable to watch. Add different transitions between your clips like fade in, fade out, etc. to keep the video's continuity and flow.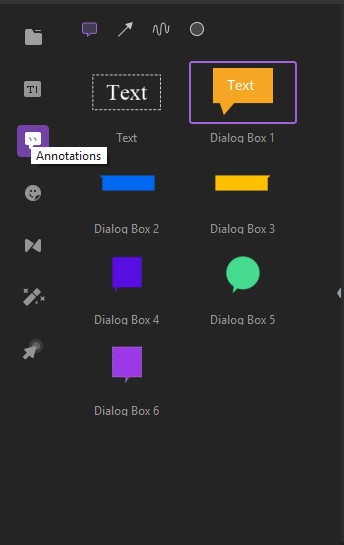 The green screen effect can be used for animation as it can allow you to choose the colors you want to remove.You can remove all the background to keep the color you want.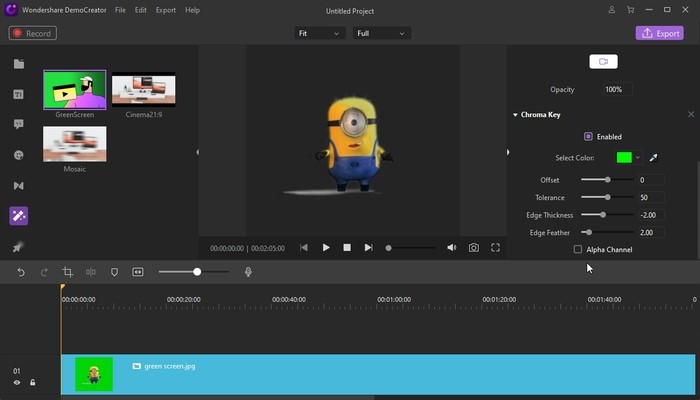 The cinematic aspect ratio and the soothing color is provided by Cinema 21:9. Mosaic provides a blur effect on the desired region if one needs to hide something in the video (like face, name, or personal data).

Create Your Successful Video!
As you can see, there are many things to consider before hitting the "record" button on your newest video marketing campaign. Always make sure you've got the basics covered, know the purpose of your video, and have the equipment you'll need to make a solid start when it comes to filming.
When you are good to go, start recording your video and create the content you want to present to the users. This will eventually increase the reach of your business or promotion. Make greater content to stay one step ahead of your potential competitors.
If you haven't added video marketing to your mix, it is high time now. Offering your potential consumers, a more personal way to interact with your brand will help them see you as more than a company — and that will translate to higher awareness and engagement and, more importantly, more sales! Try Wondershare DemoCreator video editor for free.
Read More: 6 Brilliant Ways to Teach Your Audience about Benefits of Candle Boxes
Apart from that, if you are interested to know about Benefits of PowerPoint Presentation Services then visit our Technology category.