Last Updated on December 29, 2021 by husnain
While constructing or renovating your home, choosing a doorknob might seem like a trivial task. However, these little fixtures bear responsibility for your safety and privacy and make your door functional. They can improve the aesthetics of a generic door and act as a statement piece for your room.
Doorknobs have only been around for the past 143 years. They were invented by Osbourn Dorsey and patented in 1878. Initially, large pieces of animal hide served the purpose of doors, making knobs unnecessary. With the evolution of technology and increased demand for privacy, wooden doors with hinges came into being. Thus, creating the need for door handles.
While shopping online for doorknobs, you might feel overwhelmed by the sheer amount of choices at your fingertips. There is just so much variety from chic black mattes to sleek chrome finishes, classic sphere knobs to funky-shaped handles, indoor accessories to outdoors fittings.
To make your buying journey a little easier, here is what you should know when buying doorknobs online:
The Door Functions
Before you choose a doorknob, it is imperative to consider the purpose and door placement. Whether the door is at the house's main entrance, leads to a private room, or opens into a common corridor, each one requires a different set of doorknobs.
Exterior Doorknobs
External door handles act as a layer of protection for your home. Therefore, they be should be strong and reliable while being compatible with the outlook of your house.
External doorknobs are mostly available as keyed entry doorknobs. The lock/key mechanism is present on the outer side and a turn button on the inner side. A simple interior unlocking mechanism ensures a quick exit in emergencies such as a fire.
However, if your door is near a window or glass panels that can be broken to access the inner turn lock, you need extra security. Therefore, opt for a knob that requires a key to open from inside and outside. If you need a more sturdy lock, check out the security grading for door locks to make an informed choice. 
Another secure option is the keyless entry, gaining popularity for its advanced features and smart technology. The keyless locks are operated with a unique numerical code and usually have a lever attached to open the door. They are perfect for easy access, especially if you are prone to lose the keys.
Interior Doorknobs
Internal doorknobs are designed for the doors inside the house, which can be divided into four categories:
Privacy knobs are primarily used for privacy, such as bathroom and bedroom doors, but are not very secure. These can be easily locked from the inside and unlocked from the outside with a specialized key in an emergency.
Passage knobs are usually present in the doors leading to hallways or closets, with two non-locking knobs on either side of the door. These designs do not include a lock, only a latch to open the door, so go for them if you do not require privacy.
Half-dummy doorknobs can resemble passage doorknobs, but you do not have to rotate the lever to open the door. These are mainly fitted on side-by-side double doors such as bathroom cabinets and kitchen cupboards.
Style and Aesthetic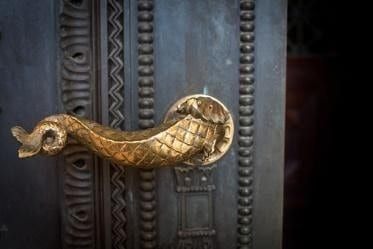 In addition to their functionality, doorknobs are also essential elements of interior decoration. Therefore, you want to choose a knob that completes the look of your door and matches the overall theme of your room.
For a contemporary look, choose round, matte doorknobs in a color that matches the other fixtures in your room. If your room décor is more traditional, pick a slim curved handle in solid brass finish or shiny nickel plating. You can also go for funky designs such as knobs shaped like animals for .kids' bedrooms or fish doorknobs for a nautical themed room.  
The classic doorknob colors include black, gold, silver, and bronze. However, you can also find colorful artisan pieces online that will add a pop of color to your living space but might be more expensive.
Types of Material
Doorknobs are constructed with robust material, mostly metal, which can withstand wear and tear. Brass is the most choice of metal alloy for doorknobs, containing varying amounts of copper and zinc. However, if you live near the ocean or in a more humid environment, marine-grade stainless door handles will last longer since they are more salt-resistant. Satin chrome is also more resistant to corrosion as compared to brushed nickel.
Moreover, if your home features cool-toned bright, white aesthetics, choose chrome or stainless-steel hardware. For warm-colored, antique homes, brass and bronze handles add to the appearance of the room.
Final Thoughts
While doorknobs may not be a priority for your ideal home design, it is an important decision. The right doorknob will keep your home safe and secure, add a level of privacy for your household, and can channel your penchant for style.