Last Updated on April 4, 2022 by admin
Why is there a need to sync data Dropbox in Google drive?
As we know, Google Drive and Dropbox are two famous cloud drives. They differ in various aspects, including price, volume, features, performance, etc., so you may have two clouds. You can skip a transfer and move all the files to another drive or transfer the backup files to another drive in such cases. Thus, relying on your particular situation, one can choose to move Google Drive files to Dropbox or sync Dropbox files to Google Drive. If one uses Dropbox and Google Drive to store files, it can be beneficial to merge and sync them. You may want to improve collaboration or get some extra backup. Here's how to transfer dropbox to google drive.
Here's a question about how to sync Dropbox to Google Drive or Google Drive with Dropbox?
The traditional way to sync dropbox to google drive is to use the "download" and "upload" methods. In other words, you first need to download the files from Google Drive to your local drive and then manually upload them to the destination Dropbox account. The following steps are being taken to complete the operation.
Step 1. Sign in to your Google Drive account.
Step 2. Choose the files or folders you want to download, select the "Download" button from the drop-down window, and wait for the complete process.
Step 3. Sign in to your Dropbox account, click the "Upload Files" button, and select the downloaded files in your local drive to upload to your Dropbox account.
It is available for syncing files between Google Drive and Dropbox using the download and upload feature. However, the whole process can be a waste of energy and time. You cannot close this page until the process is complete, and most importantly, the amount of time it takes depends on the Internet. So is there a tool that allows the feature to ignore the above situation?
If you've accumulated a large number of files in your Dropbox account over the years and you need to move them, there are several ways to do this.
Read More: 5 HARD DRIVE RECOVERY SOFTWARE
Old, slow, drag and drop way
If you already have Dropbox Desktop Client installed, all you can do is make sure it's synced to your computer and drag it to the OneDrive folder. But it is not very useful, and it requires re-uploading everything. You should only consider if you want everything you already have to be synced locally to your computer.
Transferring files from your Dropbox account to your OneDrive account isn't difficult, but there are a few things to follow.
Dropbox and OneDrive are well-supported cloud services on Windows 10, and each has its ups and downs. But, when OneDrive is baked into an Office 365 subscription that offers 1TB of storage, it represents a potentially much better value. This way, you can make the switch.
Another better way
Moving from Dropbox to Google Drive can be frustrating, slow and expensive – both time and money. Most applications and providers don't like to let people down, and when they try and come out quickly, they get surprisingly annoying, especially Dropbox.
Dropbox was first and foremost familiar with individuals and had some presence in the workplace. Last year, Dropbox raised its prices and gave its people an extra TB of data. For most people, 2 TB is too much, which increases the value of the prince. Because of this, it has been observed that many users are turning to Dropbox and Google Drive, which offer a more competitive package, G Suite, which lives in an ecosystem most familiar with it.
Moving from one cloud service to another is now easier than ever. Instead of going through the hassle of manually "copying and pasting" your data, use
Wondershare InClowdz with a single click; it can move all files and folders from one cloud service to another.
Cloud management and Manage all cloud services and accounts in one place. It can be tiring and messy to manage various cloud services, accounts, passwords, and files. Why not link all your cloud accounts with Wondershare InClowdz to easily manage them.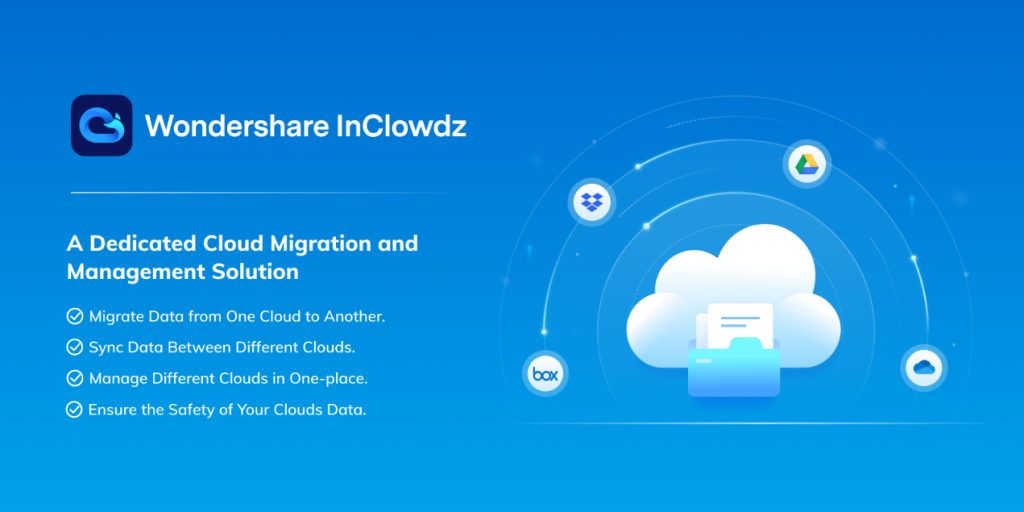 Management
Wondershare InClowdz will be much more comfortable with cloud file management. You'll be able to sync data directly from your PC to any cloud service that supports the program. Google Drive, Dropbox, OneDrive, Box and Amazon, the administration works with any of these services. Delete files, download and upload, copy from one drive to another, organize your folders and data from one place.
Working
Once you have downloaded and installed InClowdz on your PC now you have to do is create an account in the program and then log in to the driver account you use. Once Enclosed is allowed, you will be able to manage all your accounts directly from your desktop.
The login is done only once within the program, and then everything depends on the enclosures. So the user can drag and drop files to upload to their cloud, transfer and create files, download to their PC and transfer to another drive.
This software WondershareInClowdz is the best choice and a perfect solution  transfer and sync data Dropbox in Google Drive