Last Updated on October 10, 2023 by asifa
If you are planning to visit Australia and are confused about where to visit, then no need to worry about selecting destinations because, In this blog, we will list some famous destinations for you. Melbourne is the second-largest metropolis, and millions of visitors come every year to visit this amazing place. Melbourne is a vibrant city with plenty of tourist attractions, and you can easily book flights to Melbourne online and visit here.
Along with its tourist attractions, the city is popular for its sports, which include horse races that are held here on the first Tuesday of November. Also, there is a large cricket ground known as Melbourne cricket ground(MCG) located here in Melbourne city. The visitors coming to the city can hop on flinders street, which is one of the old streets of the city, where you can visit different cafes and food corners to enjoy Indian, Italian as well as Greek, and Spanish cuisines.
Here is the list of some popular tourist attractions of Melbourne that one must visit if planning to visit the city to spend weekends or vacations. Your travel is really incomplete without watching these top-rated tourist attractions. Along with visiting these attractions, the visitors are advised to know the history of the places.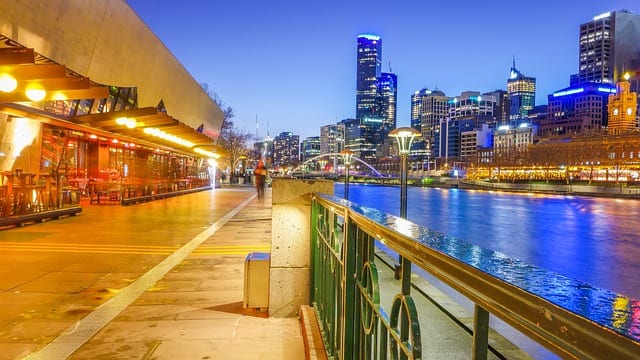 Readout about these famous places before you book flights to Melbourne:-
It is a historic site that was opened in the year 2002. This building divided the people of Melbourne into people who love this building and people who hate this building. This historical building is located opposite flinder street station, which has amazing architecture that looks stunning. This building has a modern design that reflects the victorian culture. The federation square hosts about 2000 events every year. Also, there are several indoor and outdoor performances and activities held over there.
Read More: Melbourne Bus Tours
These are the beautiful green parks that are located near the Yarra River. These gardens are famous all around the globe. Established in 1846, the Royal Botanical Garden covers an area of 38 hectares. This garden is home to about 8500 species of plants, where you can find many specimens that are rarely found everywhere. This garden is rich in heritage and is a wonderful visiting spot in summer. This spot offers light theatre and moonlight cinema to visitors. It is also a popular picnic spot with a lake in the garden. Also, there is a cafe where the visitors can enjoy tea by sitting there.
Melbourne Cricket Ground And National Sports Museum
Melbourne is the capital of Australia, and it is famous for sports. The Melbourne Cricket Ground of Australia is one of the top-rated tourist attractions of the city. This ground is one of the greatest grounds all around the globe. This ground is too old, and it was established in the year 1853. MCG hosts commonwealth games, test matches as well as one-day matches. There is a national sports museum on this ground that includes the Australian gallery of sports and the Olympic museum. Along with hosting cricket, this ground also hosts different football matches.
There are lanes near the flinders, Collins, and Bourke streets where the visitors can find the mosaic floor, period details, and unique shops where you can go shopping. It is the oldest arcade in Melbourne that is quite worth exploring. Also, the passengers can take a walking tour over there to enjoy the market near that area. You will get a different experience by visiting these areas. One of the best airlines to visit Melbourne is United Airlines, and you can book your flights to Melbourne with them. So make United Airlines Reservations and visit this wonderful city.
It is a famous zoo in the city that covers an area of 22 hectares. This museum was established in 1862 and hosted almost 320 species of animals with all the modern facilities. This zoo is an award-winning zoo where Asian elephants live in a traditional village garden setting. There is a big park and a cafe inside the zoo. The visitors get to watch various animals, from small kangaroos to snow leopards. They can listen to different voices of animals, from snoring to roaring. It really gives an amazing experience to the visitors, and the trip to this place is really joyful.
Along with visiting the top-rated tourist attractions of Melbourne, visitors can hop to the queen victoria market. This place gives a chance to have fresh shopping. There are market stalls where visitors can find everything related to shopping, from clothing, art, and toys to unique souvenirs. Also, there are concerts and night markets in this spot. Visitors really feel wonderful by roaming at this spot.
Above mentioned places are the most visited places if booking flights to Melbourne. Make reservations at airlinesreservationsflights.com with United Airlines flights and book cheap flights to Melbourne.
A Quick Overview
Melbourne, the capital of Victoria, is a bustling metropolis that is known for its thriving arts and culture scene, stunning architecture, and delectable food. With its mix of cosmopolitan flair and laid-back charm, Melbourne is a destination that appeals to travelers from all walks of life. If you're planning a trip to Melbourne, this comprehensive travel guide will help you make the most of your stay.
Getting Around Melbourne Melbourne is a walkable city, but if you want to venture further, the city's public transportation system is reliable and efficient. The tram system is one of the most popular ways to get around, and you can buy a Myki card to use on trams, buses, and trains. Taxis and ride-sharing services like Uber are also readily available.
Sights and Attractions Melbourne is home to a wealth of sights and attractions that cater to all interests. Some must-see highlights include the Royal Botanic Gardens, the National Gallery of Victoria, Federation Square, and the iconic Melbourne Cricket Ground. If you're a fan of street art, you'll love exploring the city's laneways, which are filled with colorful murals and installations.
Food and Drink Melbourne is a foodie's paradise, with a diverse range of cuisines on offer. From Asian street food to classic Australian fare, you'll find something to suit your taste buds. Some must-visit spots include Queen Victoria Market, which offers fresh produce, seafood, and meat, and the trendy suburb of Fitzroy, which is home to a plethora of cafes and restaurants.
Nightlife Melbourne is renowned for its nightlife, with a wide variety of bars, clubs, and music venues to choose from. The inner-city neighborhoods of Fitzroy and Collingwood are popular nightlife hotspots, with a mix of old-school pubs, rooftop bars, and live music venues.
Accommodation Melbourne offers many accommodation options, from budget-friendly hostels to luxury hotels. The city center is a popular choice for visitors. If you want something quieter, consider staying in one of Melbourne's charming inner-city suburbs like Carlton or South Yarra.
Read More: Comparing Airlines Sector: Pre-Pandemic Health and Present.